Anzeige
Master of Advanced Studies ETH in Management, Technology, and Economics
Organisation:

Typ:

Full-/Part-time

Certificate:

Master of Advanced Studies (MAS)

Duration:

4 semester(s)

City, country:

Zürich, Zurich area, Switzerland
Programme
The "Master of Advanced Studies in Management, Technology, and Economics" was introduced in 1989 as a continuing education course of study in management and production sciences.
Today, the university continuing education programme is taught as a demanding MAS and is a four-semester programme for people in the work force that builds on the student's expertise in technical and natural sciences.
The objective is to develop a holistic, interdisciplinary mindset. This programme enables participants to take on demanding professional management tasks.


Participants in this programme will enhance their ability to:
Develop concepts of sustainable growth support
Structure and illustrate complex entrepreneurial untertakings
Plan and implement interdisciplinary projects in collaboration with specialists
Solve problems in a structured and innovative way
Assume executive responsibilities
Develop holistic thinking methods
Prof. Dr. Florian von Wangenheim
Programme Director
Target audience
The MAS programme is geared towards university graduates who studied natural and engineering sciences and related subjects. The programme addresses professionals and prospective managers with at least two years of work experience.


Candidates have on average a professional experience of six years and the average age is 33 years. Candidates act for example as project managers, technology or product managers or consultants and need key qualifications which are required for senior management positions. Others are founders of their own companies and aim to acquire skills to successfully manage their own business.




Emphasis/Curriculum
The MAS MTEC offers a multi-faceted and attractive range of lectures. From the first to the third semester, the programme teaches professional competencies in the following areas:
General Management and Human Resource Management
Strategy, Markets and Technology
Information and Operations Management
Quantitative and Qualitative Methods for Solving Complex Problems
Micro and Macroeconomics
Financial Management
A minimum number of subjects must be taken in these competency areas, which are supplemented by elective courses from interdisciplinary areas. This allows choosing individual focus topics and creating a flexible curriculum. The range of lectures is exceptionally large. Seminars with case studies and guest lectures by managers from the economic world and a study trip to China serve to ensure and deepen practical relevance.
In the fourth semester students write a Master's thesis addressing a real-world problem of a company.
Admission/Entrance requirements
Candidates must have:
a Master's degree from ETH or EPFL or an equivalent technical or scientific degree from an internationally accredited university
a Bachelor degree might be accepted on presentation of additional qualifications
at least 2 years of professional work experience
good knowledge of English
Deadline:
The application period for studies beginning in the Autumn Semester starts on January 1 and ends on April 30.
Late applications until May 31 maybe eligible. Subject to decision by the programme coordinator.
Admission fees:
Variable duration of study:
Generally part-time (4 semesters)
Full-time also possible (14-16 months)
Maximum 6 semesters
Languages
| | |
| --- | --- |
| Language(s) of instruction: | English |
| Going abroad: | possible |
Required language skills:
English: reading and listening C1, writing B2
German: A2-B1 (German skills are helpful, but not absolutely necessary)
No language certificates required
Tuition languages:
English: 90 %
German: 10 %
Information material
Order information material from ETH Eidgenössische Technische Hochschule Zürich. The given data is transmitted only to this educational provider and, of course, not given to a third party.
Organisation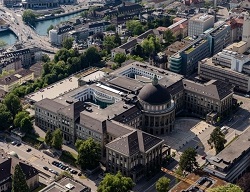 ETH Zurich
The Swiss Federal Institute of Technology Zurich is is one of the leading international universities for technology and natural sciences. Excellent research conditions, state-of-the-art infrastructure and an attractive urban environment add up to the ideal setting for creative personalities. More than 21,400 students from over 120 countries, including 4,100 doctoral students are currently studying and conducting research at ETH Zurich.


Continuing education as a core task
ETH Zurich is a leading provider of university continuing education in Switzerland and is committed to the highest international quality standards. According to the Act on the Swiss Federal Institutes of Technology, continuing education is one of their core tasks and is prominently enshrined in the ETH Zurich mission statement.


About one third of Switzerland's top management has studied at ETH.
Studying in Zürich
Zurich is situated in the heart of Europe. Thanks to its many globally operating companies in the industry and service sector, the Zurich region is Switzerland's economic centre.


A high standard of living and good educational institutions are key factors for this knowledge-oriented society. The density of renowned institutions of higher education and research institutes in Zurich is unique.
Course guidance
Morgan Altman
+41 44 633 92 35
Contact
ETH Eidgenössische Technische Hochschule Zürich
MAS ETH MTEC
Weinbergstrasse 56/58
8092 Zurich
Switzerland
Map
Phone:

+41 44 632 67 96

E-Mail:

Web: