Anzeige
MAS European and Asian Business Management
Organisation:

Typ:

Full-time and Part-Time

Certificate:

Certificate of Advanced Studies (CAS)

Duration:

1 month

Certificate:

Diploma of Advanced Studies (DAS)

Duration:

9 month

Certificate:

Master of Advanced Studies (MAS)

Duration:

18 month

City, country:

Zürich, Zurich area, Switzerland
Programme
With ties between Europe and Asia increasing, and with the latter growing in importance on the global stage, it is imperative for business leaders to be equipped with intercultural competencies and interdisciplinary skills needed in the job market.

The Advanced Study Programs in European and Asian Business Management offer a top-level post-graduate education and prepare future managers to succeed in international business.

In the MAS European and Asian Business Management Program, students from around the globe discuss the state-ofthe-art in managerial theories and business practices. After two
semesters of attending courses at the university campus, participants will apply their newly gained knowledge in the corporate world through paid internships, real-life consulting projects or applied case study research.

With lectures and case studies instructed by renowned professors and business leaders from all over the globe, including University of Oxford, Bocconi University, Sophia University Tokyo and National University Singapore.

The four-week CAS European Business Management and CAS Chinese Business Management Programs impart up-to-date knowledge relating to business in Europe and China respectively.

To enrich the curriculum, evening seminars on the latest developments in the business world, hands-on international career experiences, company visits and language courses are offered as extracurricular opportunities.

Welcome to Zurich, one of the most vibrant economic hotspots in Europe, world-famous for its high quality of living and strong innovation culture – see you soon!
Target audience
The program is designed for university graduates aiming to deep-dive into advanced European and Asian business management subjects. The program equips participants with applied knowledge and provides a unique experience in an intercultural environment.
Emphasis/Curriculum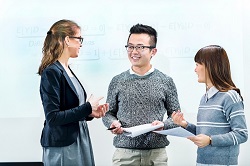 The curriculum consists of 4 modules and lasts 1 year (70 ECTS). In module 1, participants learn about international management in general (inclusive Asia Business Series). Module 2 focusses on regional characteristics of Europe and China. These two modules take part within the first semster. The courses are held weekly, in 2-3 day course blocks (mainly on Monday, Friday and Saturday). The second semester comprises the mandatory paid internship in an international company, as well as the writing of the MAS thesis.
MAS Module 1
Core courses in fundamentals of International Management on Master Level include*:
Applied Business Ethics, AI and the Future of Decision Making
Asian Business Series
Corporate Finance
Financial Accounting
Innovation Management
Leadership and Human Resource Management
Macroeconomics, Development Economics & Future Economic Systems
Marketing in the Era of Digitization
Neuromanagement
Research Methodology
Strategic Management
Supply Chain Management
MAS Module 2
The MAS Module 2 consists of two market-specific subjects focusing on Europe and China*.

European Business Management (CAS)

Case Studies on Cross-Border Business – Focus Europe
European Business Environment, Government and Society
FinTech
International Negotiation: The Swiss Art of Mediation
Luxury Brand Management
Management of European Multinational Corporations
Swiss Family Business
Swiss Competitiveness
Strategic Branding and Retailing (elective)
Chinese Business Management (CAS)

Case Studies on Cross-Border Business – Focus China
China›s Global Race for Innovation
Chinese Culture and Enterprise Management
Chinese Digital Business: e-Commerce, Marketing and Entrepreneurship
Macroeconomics in China
The Art of Chinese Negotiation
The Emergence of Chinese Global Business Leaders
Company visit (elective)
MAS Module 3 (starting April 2024)
Participants will complete a 6-8 month corporate project (paid internship, real-life consulting project or applied case study research) in an international company/organisation.
For European students it is recommended doing the corporate project in Asia, for Asian students in Europe

MAS Module 4
The MAS thesis is completed in a team format with 2-3 students per group. The research is supervised by a program lecturer.
The written part of the thesis will be graded and will count for 9 ECTS. The thesis has to be presented in an oral defense session which will count for 1 ECTS with a pass/fail grade.
Practical relevance
The classroom teaching is complemented by case studies and first hand experiences from practitioners. The state-of-the-art know-how is reinforced through practical training in companies or real business case projects in Europe or Asia. The hands-on experiences equips course participants with an in-depth understanding of intercultural challenges and the necessary competencies for successful performance in trans-national businesses.
Cross-cultural community
Experience the MAS EABM's cross-cultural setting first hand! Meet students from all over the world, discuss with lectureres from different nations and universities and build a long-term international network.
Admission/Entrance requirements
Total fees approx.

CHF 38'500
Tuition Fee
MAS: CHF 38.500* includes a language course
DAS: CHF 23.000*
CAS: CHF 8.000*
*Application fee of CHF200, travel, accommodation and study trips
to Europe and Asia are excluded.


Admission Criteria
Master's or Bachelor's degree from an accredited university
A minimum of one year's work experience
Proof of English IELTS 6.5 or equivalent (only one division score can be 6.0)
Venue
Switzerland
Languages
| | |
| --- | --- |
| Language(s) of instruction: | English |
| Going abroad: | erwünscht |
All courses and the final thesis are tought and written in English. 

Language courses
Language courses will be offered to MAS students.
Attending a German language course is a requirement for Asian students; Chinese, Japanese or Korean language courses for Western students
Degree / Certificates
Master of Advanced Studies (MAS)
MAS in European and Asian Business Management (70 ECTS)
Diploma of Advanced Studies (DAS)
DAS in European and Asian Business Management (35 ECTS)
Certificate of of Advanced Studies (CAS)
CAS in European Business Management (12 ECTS)
CAS in Chinese Business Management (12 ECTS)
Program timeline
MAS program: August 2023 - February 2025
DAS program: August 2023 - March 2024
CAS European Business Management: January - February 2024
CAS Chinese Business Management: February - March 2024
Application Deadlines
30 April 2023 for Non-EU/EFTA citizens (due to visa requirements)
30 June 2023 for EU/EFTA citizens
30 September 2023 for DAS and CAS programs
Information material
Order information material from Universität Zürich. The given data is transmitted only to this educational provider and, of course, not given to a third party.
Organisation
Studying in Switzerland for International Students
The University of Zurich (UZH) is the largest University in Switzerland. Founded in 1833, it ranks today among the top 75 research institutions worldwide. The faculty of business, economics and informatics is one of the seven faculties where students from all over the world come to complete their Bachelor's Degree, Master's Degree, PhD or take part in one of the multiple continuous education programs. This makes the UZH a very attractive University in Switzerland for international students to do their Bachelor or  Master's degree in Switzerland.

Business Management at UZH
The University of Zurich's further education programs in business are on par with the top business schools in Switzerland and the EU. Doing a Master of Advanced Studies (MAS) in Switzerland gives you not only the advantage of holding a degree from a world renowned University, but you will also obtain international work experience during the 6 to 8 month mandatory paid internship. The MAS European and Asian Business Management program is the ideal choice for you if you are thinking about starting your career with a focus on European and Asian Business or changing your focus in this direction. The University of Zurich is the only
University in Switzerland offering a Master of Advanced Study program in Business Management with a clear focus on Asia and Europe, with China and Switzerland in particular.

Study in Switzerland in English
All courses of the Master of Advanced Studies (MAS) European and Asian Business Management are taught in English. We welcome international students to study with us in Switzerland – so far, students from over 20 nations have graduated from the MAS European and Chinese Business Management program, the previous MAS program.
Studying in Zürich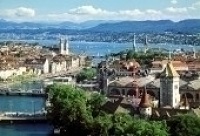 Switzerland has a great deal to offer: cultural diversity, multilingualism, stunning scenery and, of course, its people. There are now approximately 7.7 million people living in Switzerland, speaking four official languages: German, French, Italian and Romansh. However English is widely used.
Switzerland tops the overall ranking in The Global Competitiveness Report 2010-2011 released by the World Economic Forum. "Brainforce" is also highly valued, and thanks to an outstanding level of performance, Switzerland took the top spot on the "European Innovation Union Scoreboard 2011". Studying in Zurich means living in Switzerland's vibrant and exciting cultural capital, which is far more than a business and finance centre. Known as the "little big city", Zurich offers all the benefits of city life and at the same time an attractive recreation area with its stunningly beautiful lake and nearby mountains.
Contact
Universität Zürich
MAS European and Asian Business Management
Affolternstrasse 56
8050 Zurich
Switzerland
Link zu Google Maps